Downtown Los Angeles Plays Itself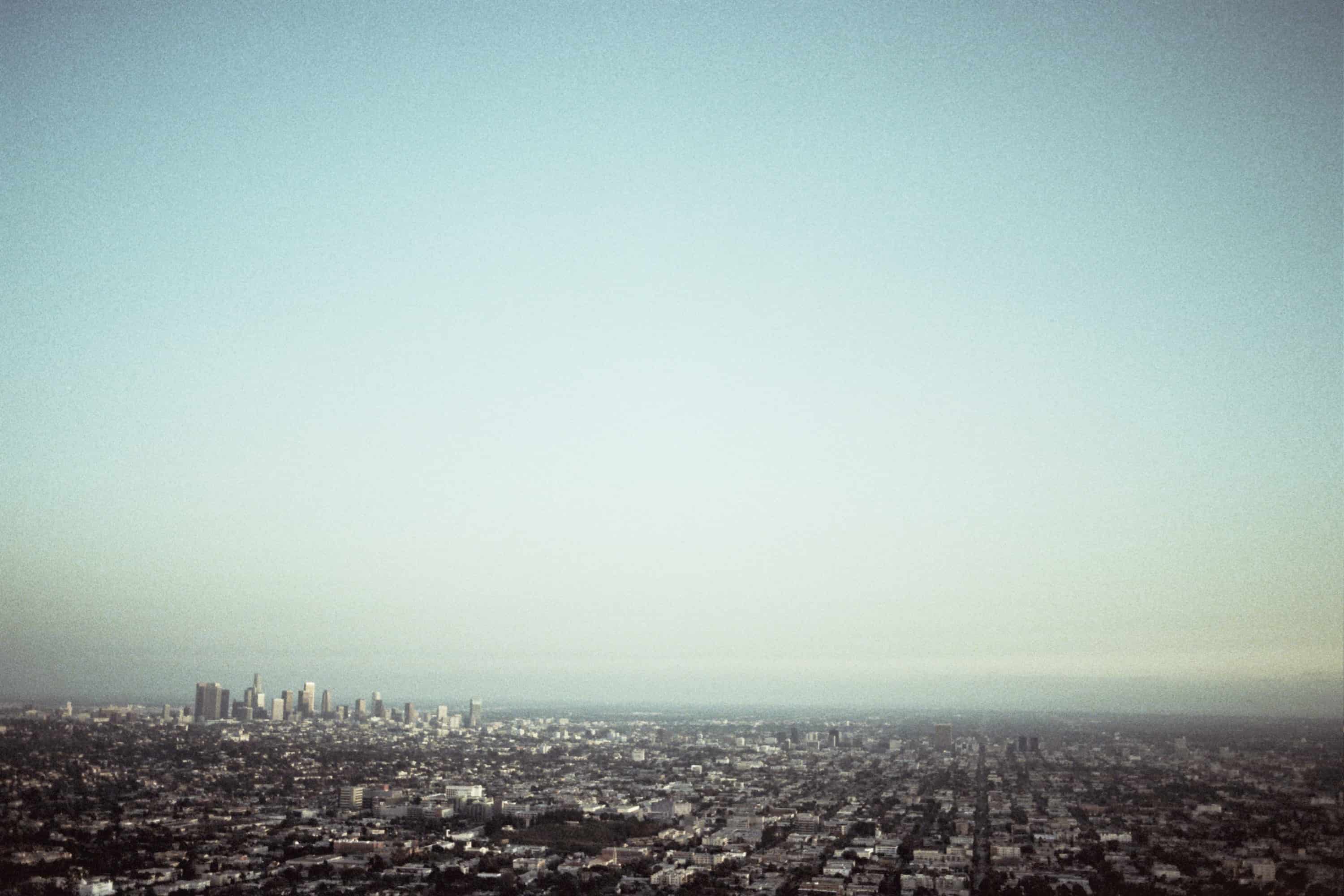 Few cities are simultaneously as recognizable and opaque as Los Angeles.
It's not an iconic city. Think about it. What's a famous LA icon? The Hollywood sign, that's it. It's not New York, whose streets from any angle ooze Big Apple, whose bridges and skyline and Statue of Liberty are familiar all over the world.
And yet you've seen LA a million times, even if you've never been there. You've seen its streets, its architecture, its beaches. LA is the backdrop of our cinematic fantasies—Los Angeles is the city in movies. And Downtown LA, that blip of skyscrapers and art-deco office buildings, is the LA that movies want the city to be: urban, historic, gritty.
Nine years ago, I saw a documentary at the Brattle Theater in Cambridge, MA called Los Angeles Plays Itself. It completely changed the way I thought about the city. The film is an essay written by film professor Thom Andersen, read over clips of movies featuring Los Angeles. It's comprehensive, sly, and opinionated, expounding on the ways Los Angeles has been both corrupted and preserved by the movies, and the way reality and cinema mix in strange ways in this strange city. Suddenly, I saw LA as a city of layers: layers of history, layers of fiction, layers of gentrification and reimagination. Back in 2005, this movie was too illegal to release outside of art theaters (thanks to the unlicensed use of hundreds of film clips) and yet it stuck with me and I raved about it to anyone who would listen. As the years passed, I traveled to LA to visit cousins, and then my sister, and this city of cars and smog became one that I started to love. And the layer underneath that love was always Los Angeles Plays Itself.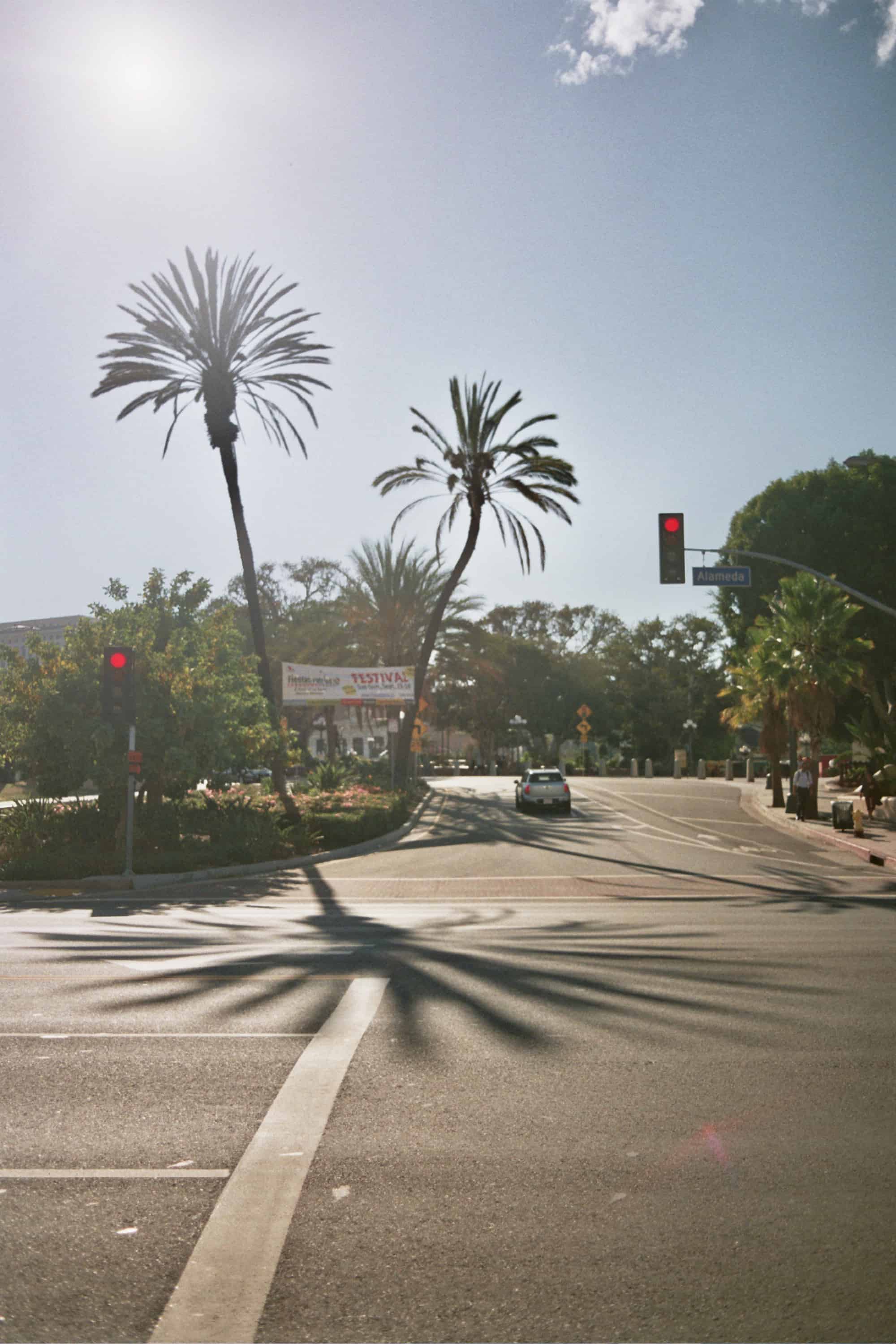 When I traveled to LA this summer, I was in for a treat. Los Angeles Plays Itself had recently overcome its legal hurdles and would be shown during my visit at The Silent Movie Theater in Hillary's West Hollywood neighborhood. Since that fateful showing at the Brattle in 2005, I'd only watched the movie on illegally burned DVDs, never in a theater. Seeing the film in a theater in Los Angeles was a completely different experience– hearing the audience whoop knowingly as Thom Andersen complains dryly about the skewed reality of LA car chase scenes in films or the way the movies always turn modernist architecture into villain's lairs really adds to the film—and because this is Los Angeles, Thom Andersen himself was at the screening for a Q&A.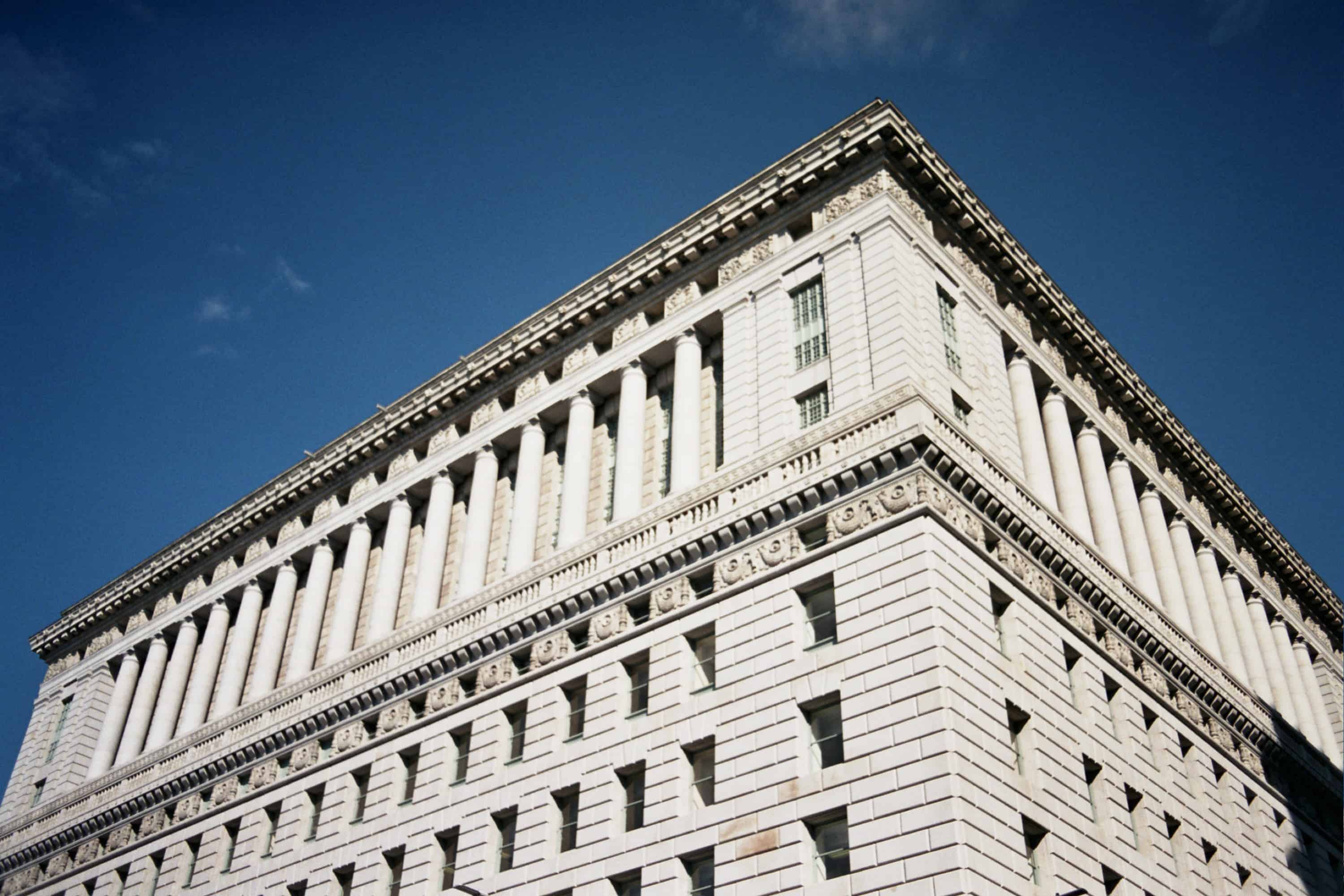 Los Angeles Plays Itself is a grumpy love letter to the city, and one thing the film does exceptionally well is highlight the historical LA—both the sites that remain, and those that have been lost to urban renewal and only exist in the backgrounds of black-and-white movies. Many of these places are in Downtown LA, where Los Angeles actually resembles a city instead of a sprawl, and where I had never been. After watching the documentary, Hillary and I decided that we had to go and explore the part of the city that has snuck into so many famous films.
It's not an obvious place to visit in Los Angeles. Downtown LA (or DTLA, as it's often known) is very much a former glory, known now mostly for its skid row of homelessness: a shameful sight in a city that's home to such wealthy residents. Hillary told me that she won't go there alone after dark, but in the midday LA sunshine, we never felt unsafe.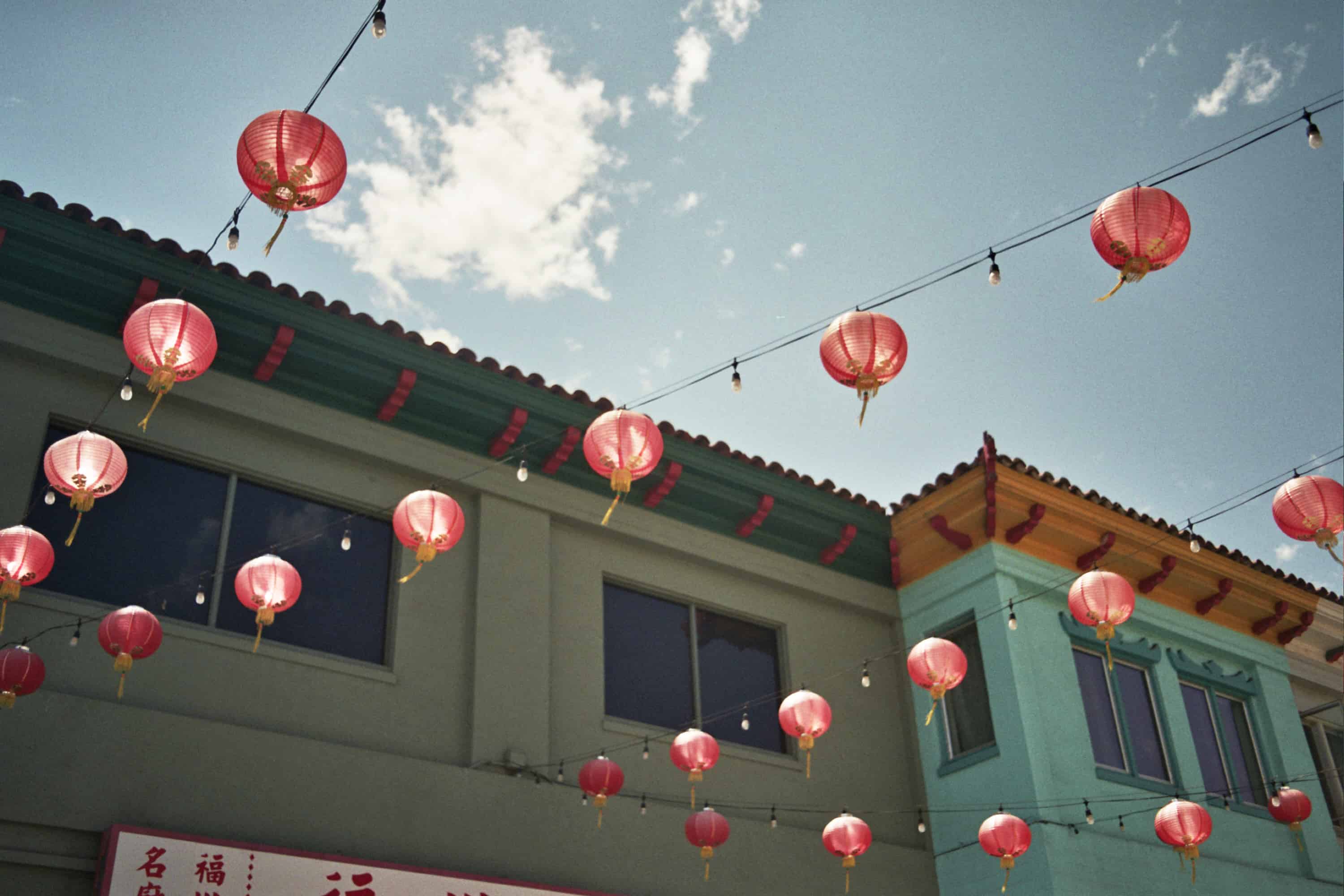 We parked out on the edge of the center and wandered through Chinatown—a quiet and colorful part of the downtown that's much less bleak and tragic than the movie of the same name. I tried to hold the images of cinematic Chinatown and its real-life counterpart in my mind simultaneously, but the grim darkness of the Polanski film withered in the bright sunshine. There is Los Angeles, and then there is the Los Angeles of films.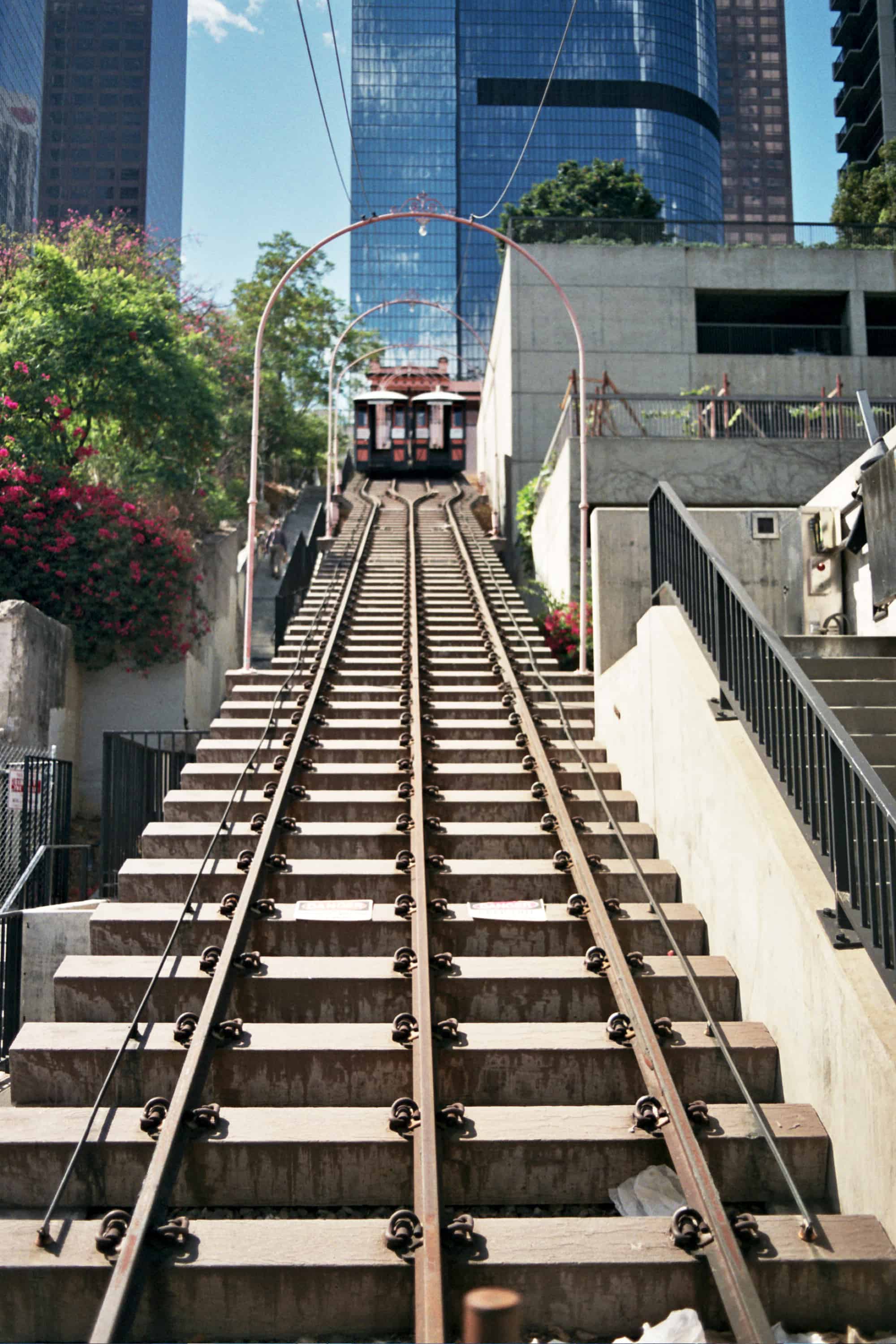 We passed the Angels Flight, a short funicular that was built in 1901, closed in 1969, relocated in 1996, and closed again in 2013. It's a weird little remnant, removed from its historical context. I would never have known about it if not for the documentary. Angels Flight can be spotted in one of my favorite noirs, Kiss Me Deadly, as well as a film delightfully named The Incredibly Strange Creatures Who Stopped Living and Became Mixed-Up Zombies!!? (according to Wikipedia, which never lies). This little piece of non-functioning history is easy to miss in DTLA, but iconic in its own quiet way.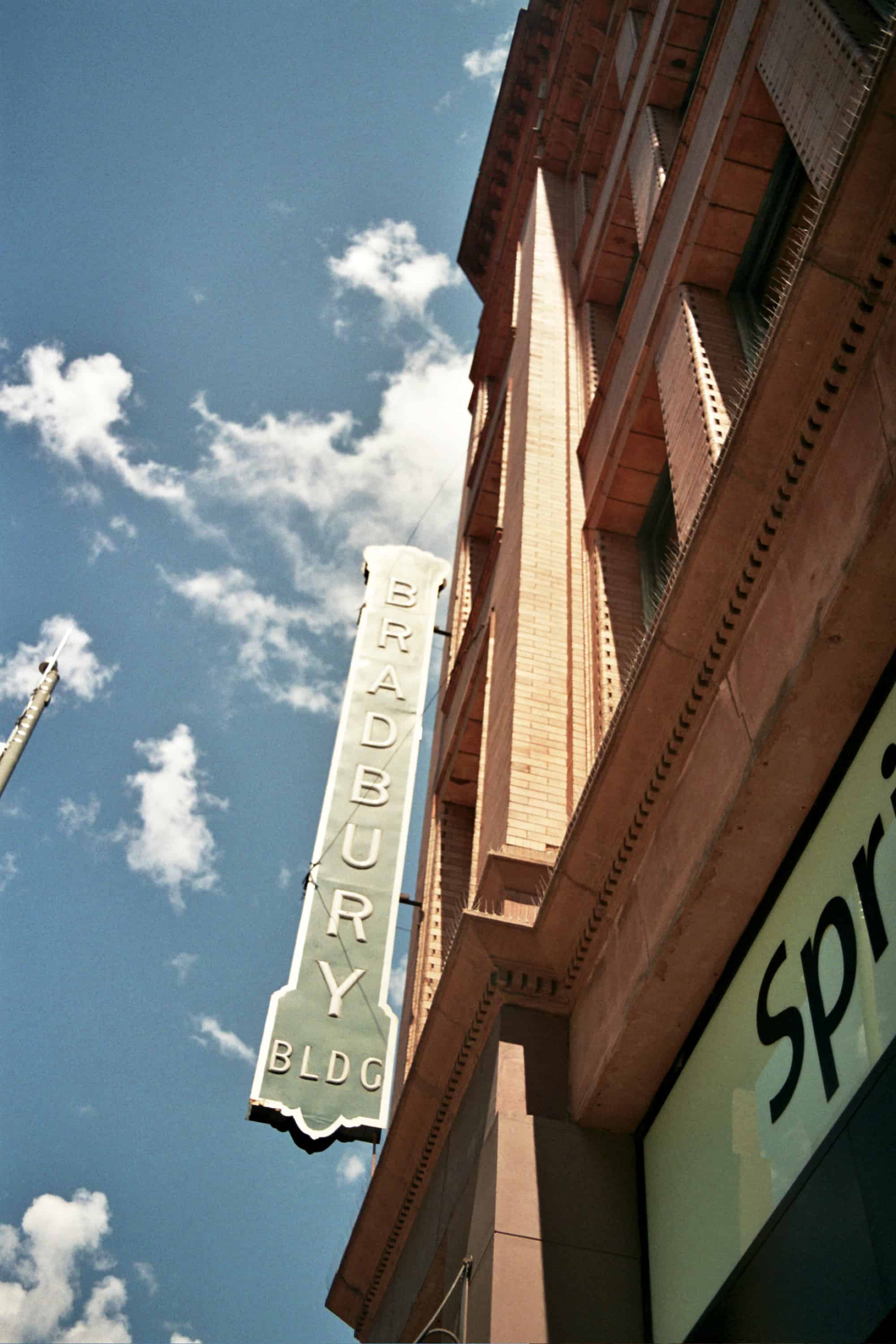 As we walked down the steamy sidewalks, I was struck by the unexpected beauty of the buildings in DTLA. They are solid and striking and deco, the sort of buildings you could commute past every day without noticing, but once you stop and absorb the details—a stylized flourish here, an intricate pattern there—you can never quite ignore them again. The building we were most looking forward to seeing, however, was almost nondescript from the outside, except for the big sign jutting into the sky with its name in plain letters: "BRADBURY BLDG."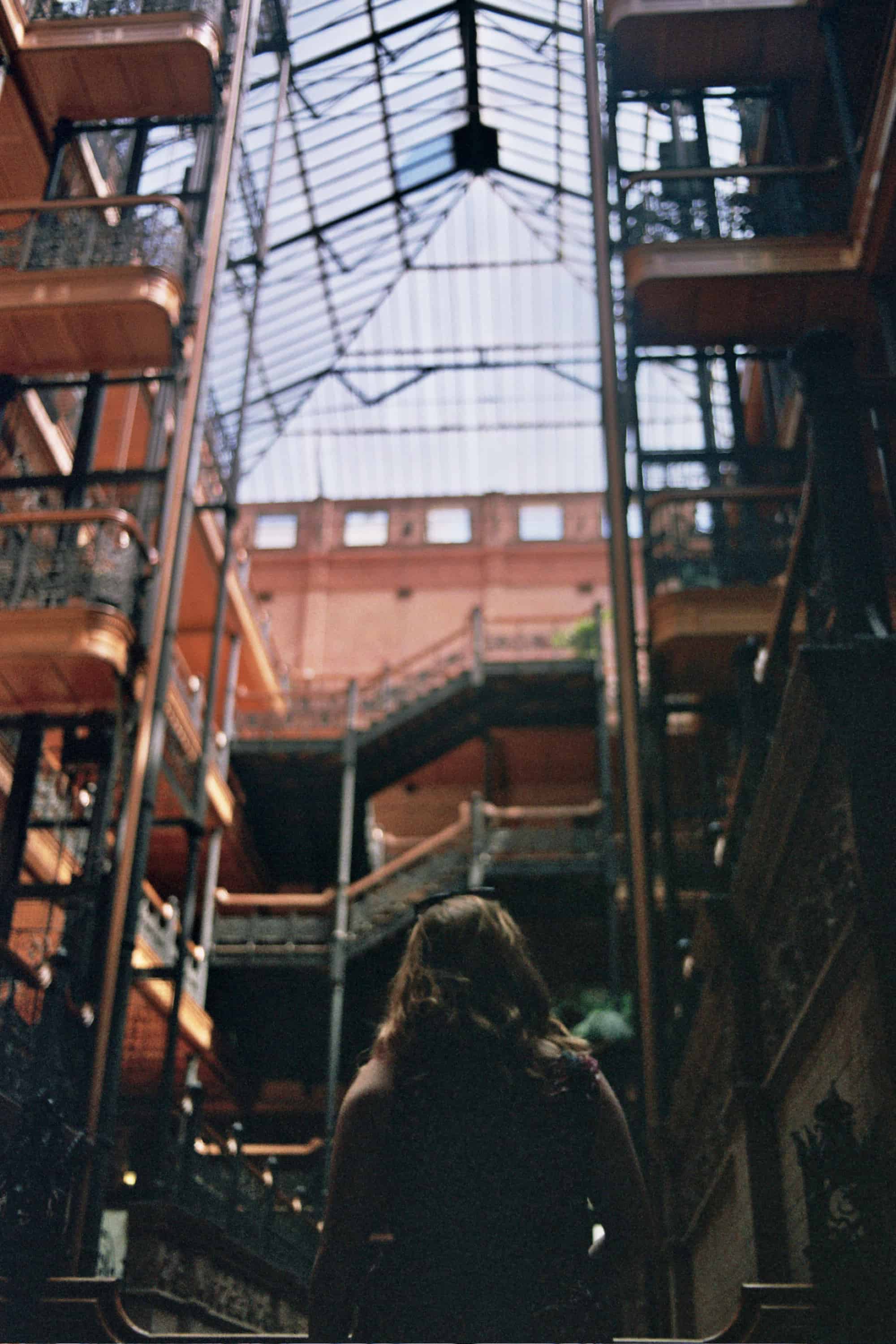 The Bradbury Building, an architectural gem from the 1890's, is familiar to many people who will never go there. Its interior, with its iconic metalwork staircases and glass-topped atrium, has been used for many movies, including Blade Runner, Double Indemnity, DOA, Chinatown, (500) Days of Summer, and more. Visiting made my cinema dreams come true; my inner movie geek was in film-heaven. I could see Rick Deckard chasing replicants, or Walter Neff confessing his crimes, or the hammy main character from DOA pursuing his own murderer… the ghosts of all these films swirl around that iconic staircase.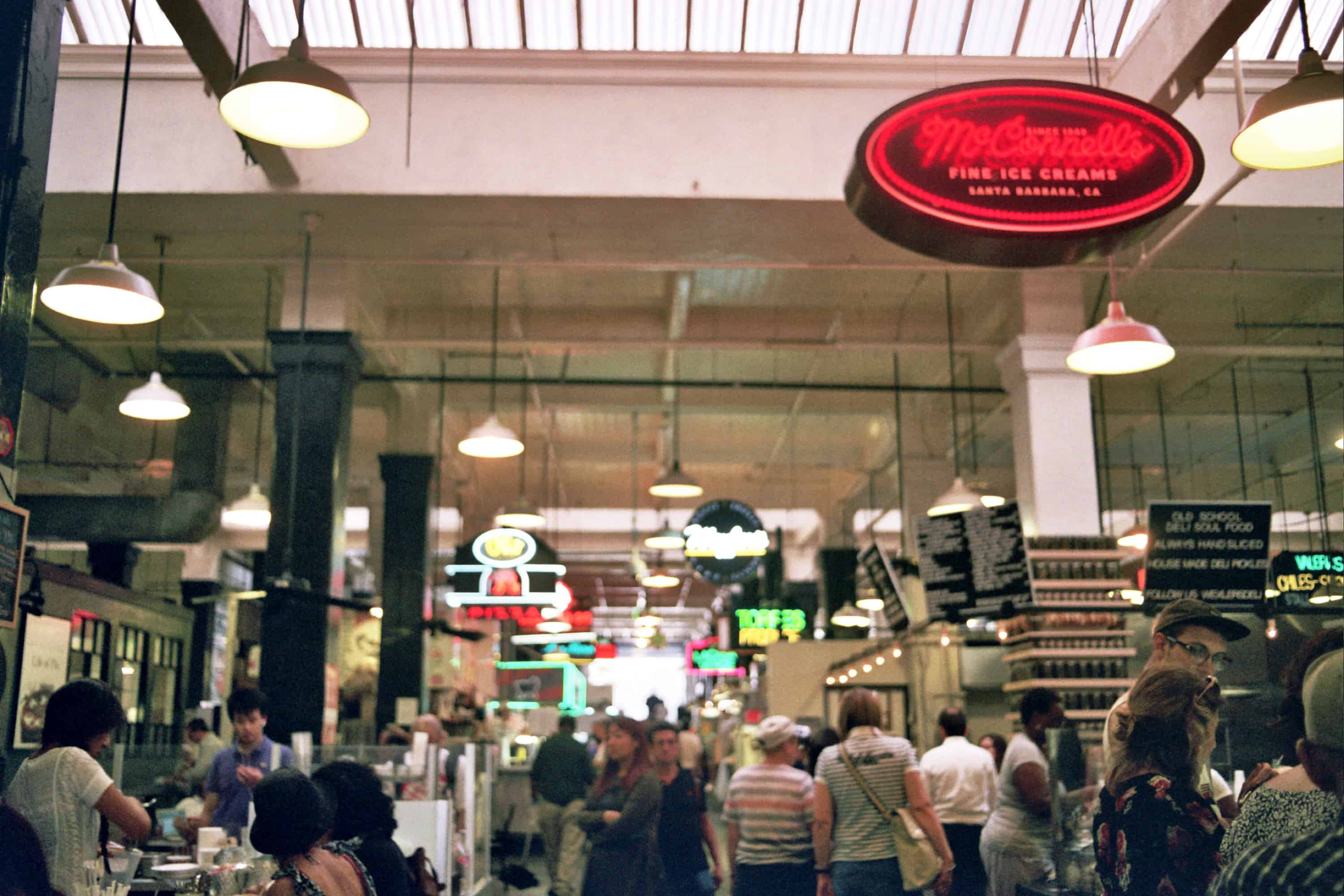 We took a break from our film hunt to eat at Grand Central Market. Another historic venue—it's been in continuous use since 1917—Grand Central Market has evolved from a hall strictly for goods vendors to its current incantation as a collection of pop-up eateries, from an oyster bar to an artisanal ice cream shop to a taco counter. Hillary and I decided on Thai street food from a place called Sticky Rice, and settled into their bar-style seating to watch the bustle of the market at midday.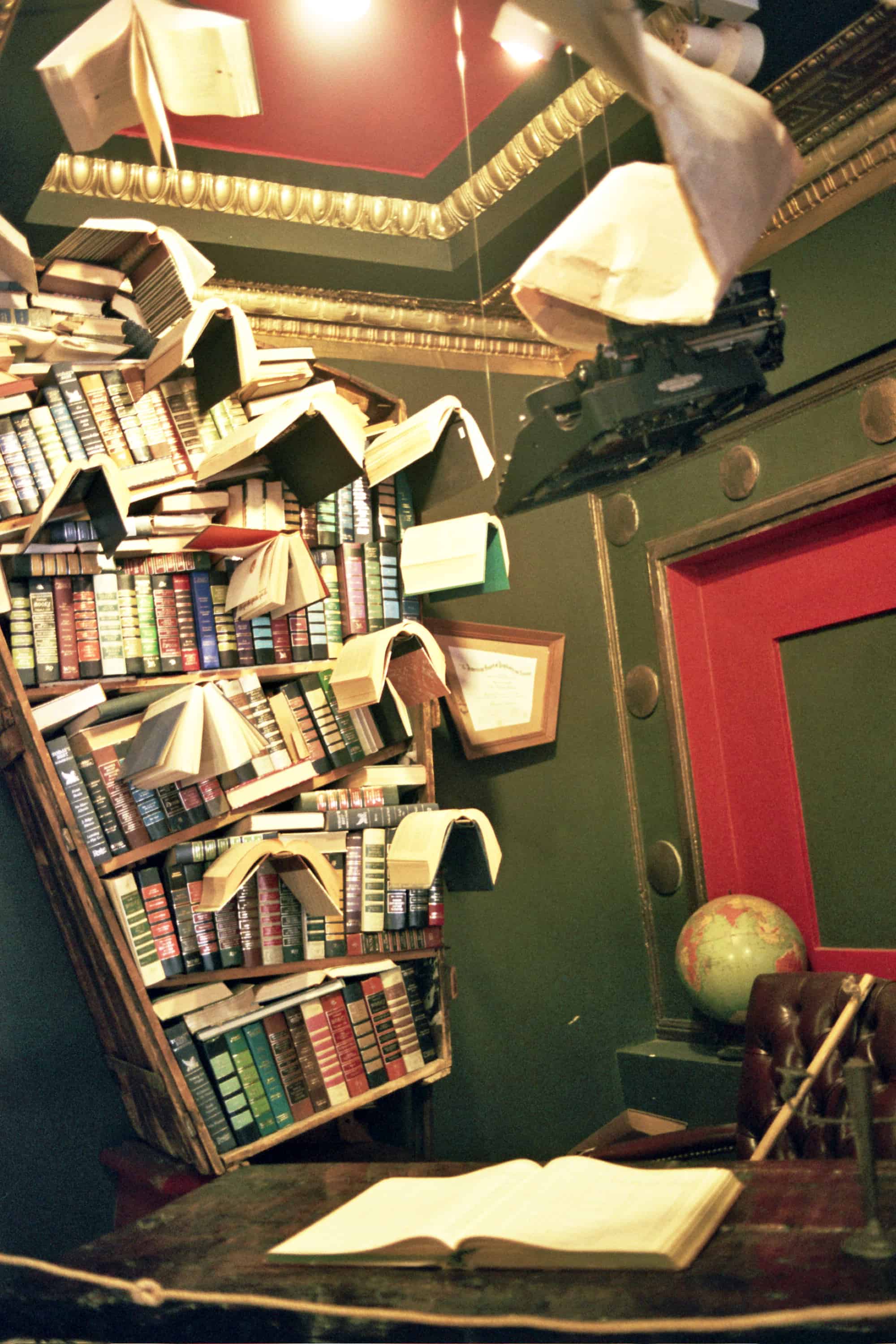 Hillary had a surprise for me after lunch. Instead of indulging my film-geekiness, I got to indulge my book-worminess. The Last Bookstore in DTLA is one of the most thrilling bookstores I've ever been to—the walls are stacked with all sorts of quirky and fascinating books, with built in nooks and comfy chairs that beckon you to sit and skim. The upstairs section is a book labyrinth, with old novels forming curving walls and tunnels, and the paperbacks on sale are organized by color. What was meant to be a quick stop instead spooled out across the afternoon, as I got completely lost in the shelves and halls of the store. It was in The Last Bookstore that I finally realized what DTLA had been whispering all day—despite its gritty reputation, DTLA is REALLY COOL.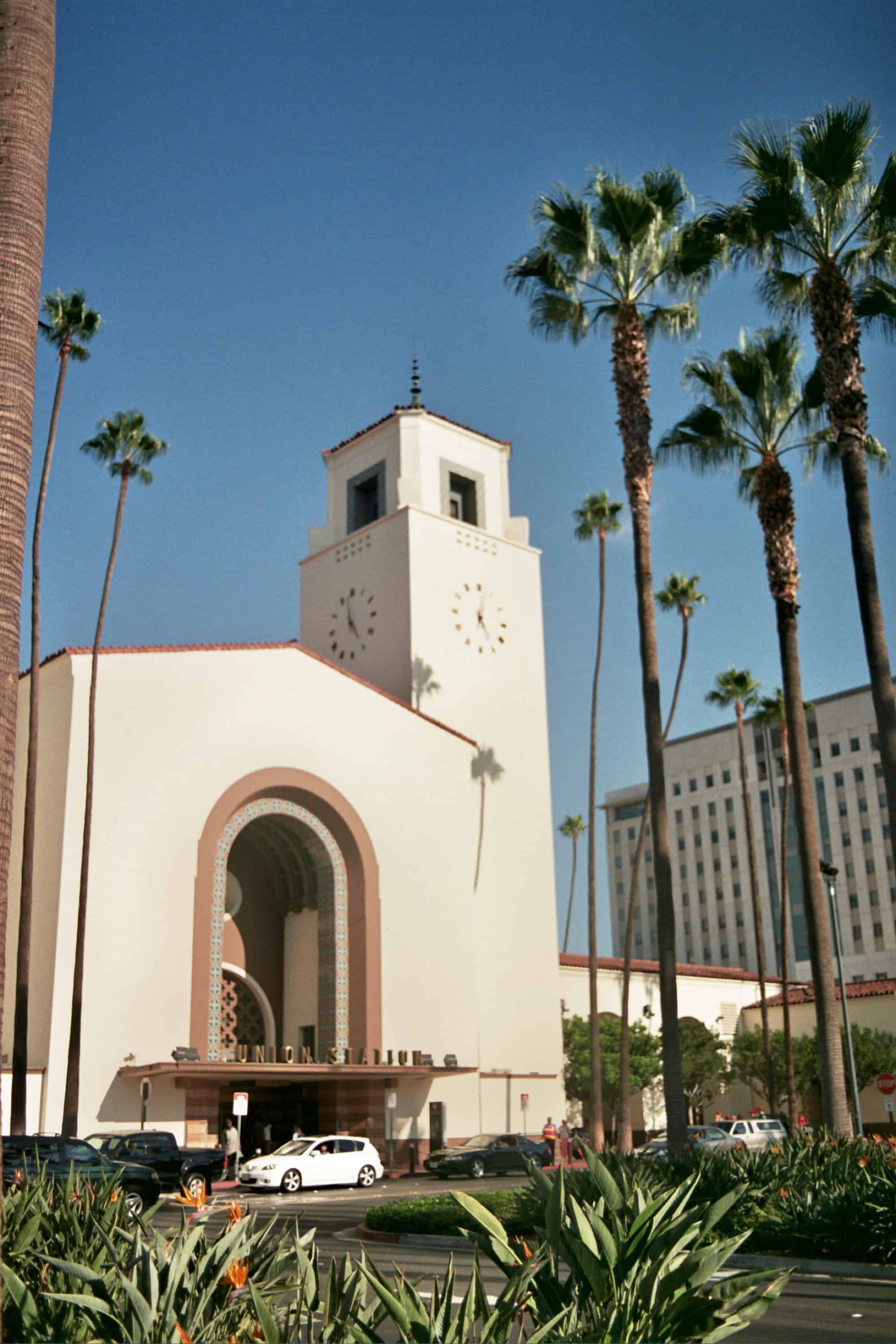 We had one last stop on our Los Angeles Plays Itself scavenger hunt. LA might be a city of cars, but tucked away in DTLA is a stunning Depression-era train station. Union Station is small but holds onto a feeling of old world grandeur. This is another Blade Runner set-piece (if you want to see some of the most classic buildings in LA and don't care to watch the documentary, just rewatch Blade Runner) and it's easy to imagine a 1940's film star with a fedora and a suitcase rushing through on the way to his next plot device. Union Station is transporting (literally and figuratively).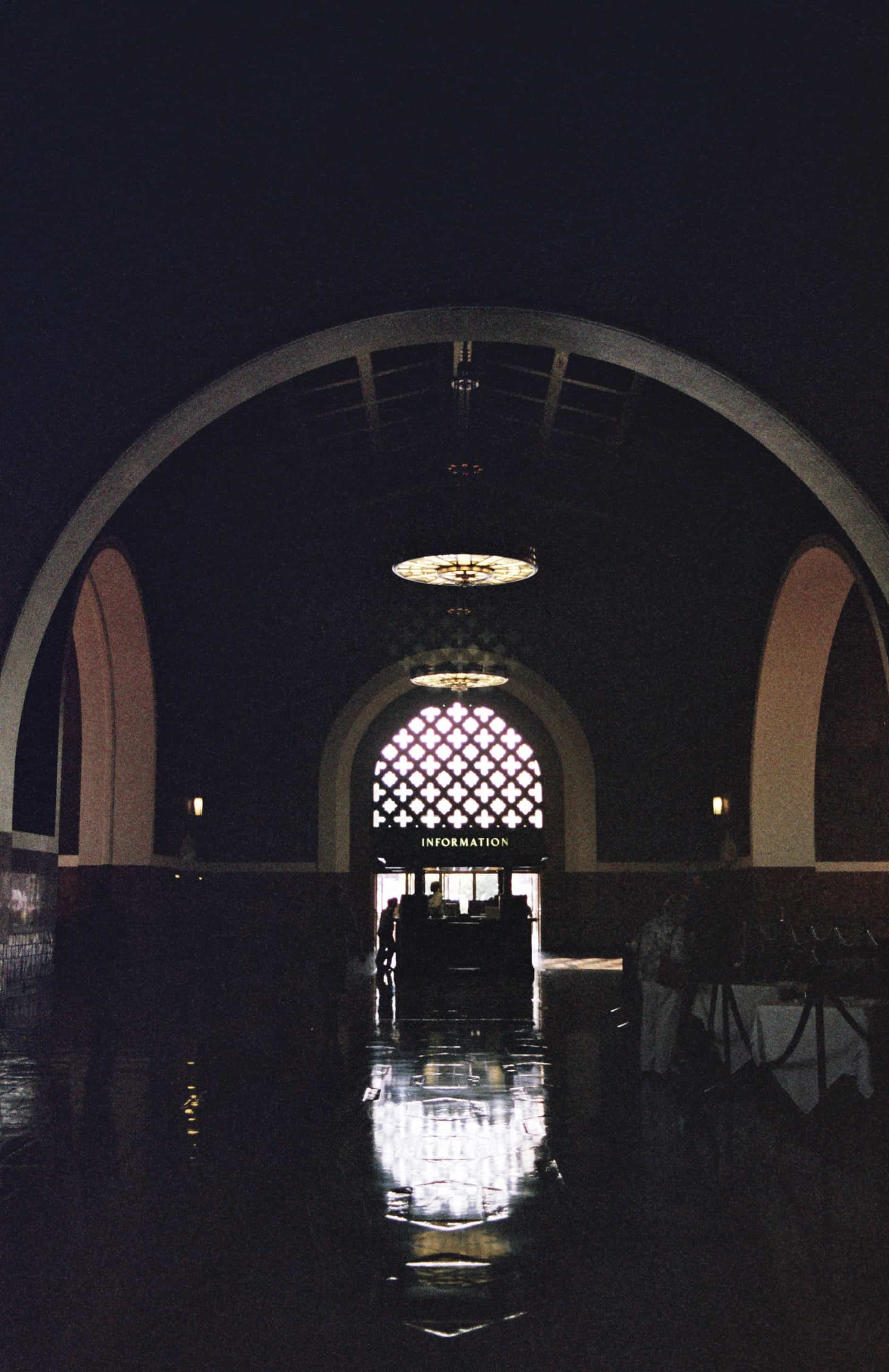 I loved DTLA. This was my fifth trip to LA and my first time ever downtown, and I was amazed that this city still had the capacity to surprise me. Our adventure chasing after Los Angeles's film history turned out to be my favorite day of the trip. Perhaps I shouldn't be so surprised: in a city that is both so sprawling and so cultural, there is always something new to discover. I like to think that Thom Andersen would be proud.
Los Angeles Plays Itself is finally legal enough that you can own it on DVD or buy it through iTunes. You can also find it streaming online, if you prefer.