I Came for Buzludzha: An Abandoned Bulgarian Wonder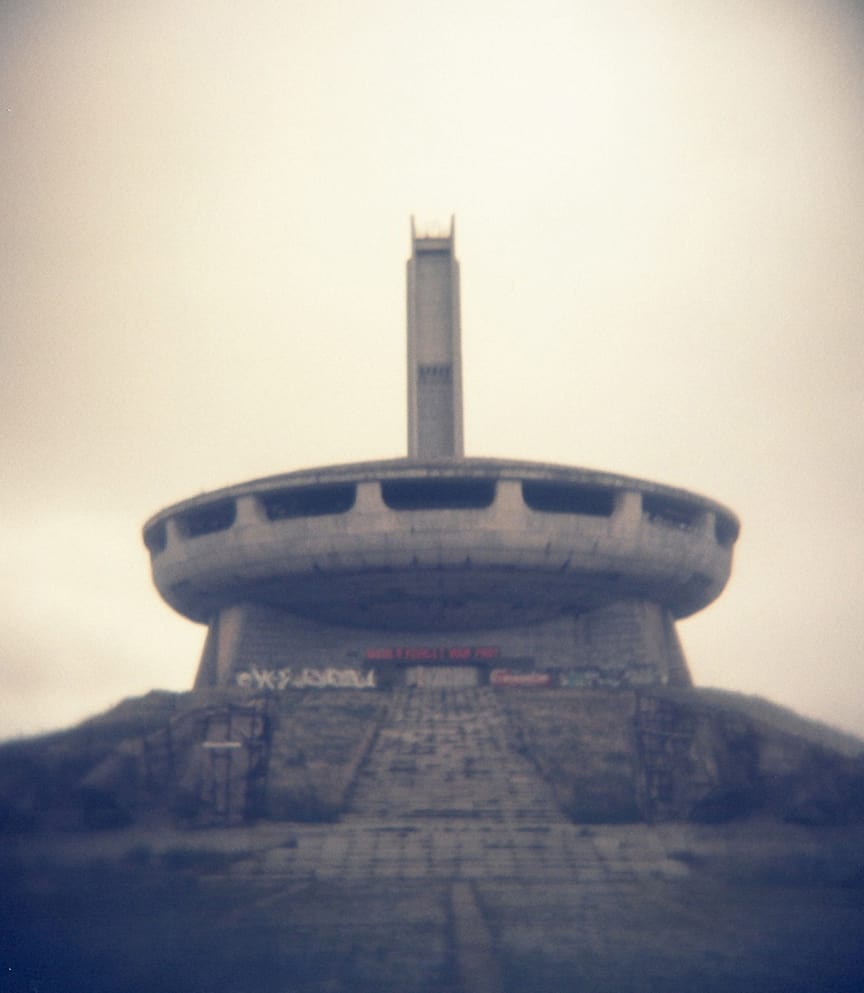 It was the pictures that caught my attention. A giant UFO-shaped Socialist monument on top of a mountain.  A piece of crumbing concrete art, the pinnacle of that captivating Communist era. THIS, above all else, is why I really came to Bulgaria.
They call it Buzludzha.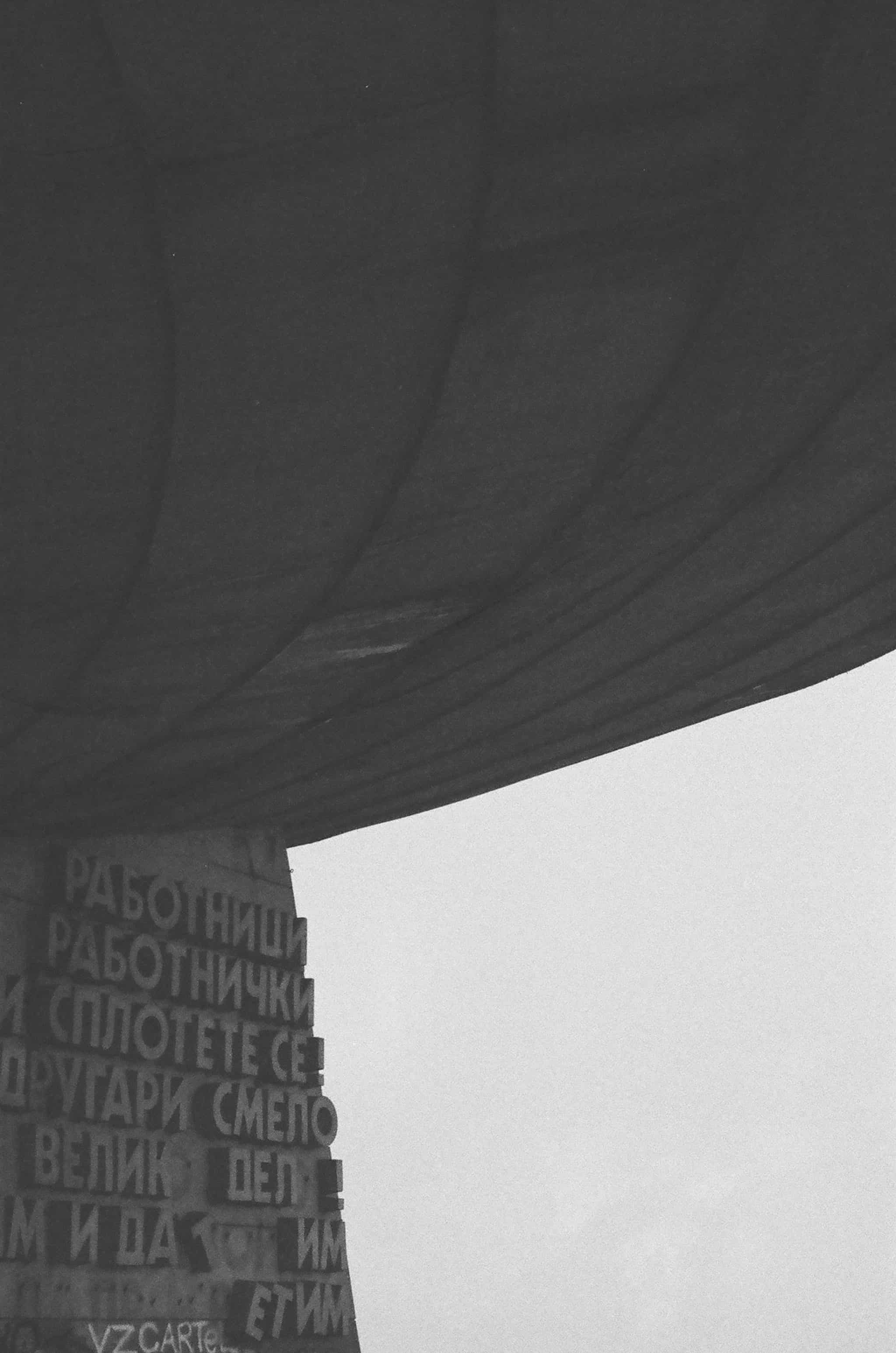 Bulgaria is still strewn with these monuments, but not all are treated equal. The monuments that celebrate Bulgarian victories and national pride are lovingly maintained and highly regarded. Those that celebrate the Soviets are left to crumble, defaced by graffiti and disdain.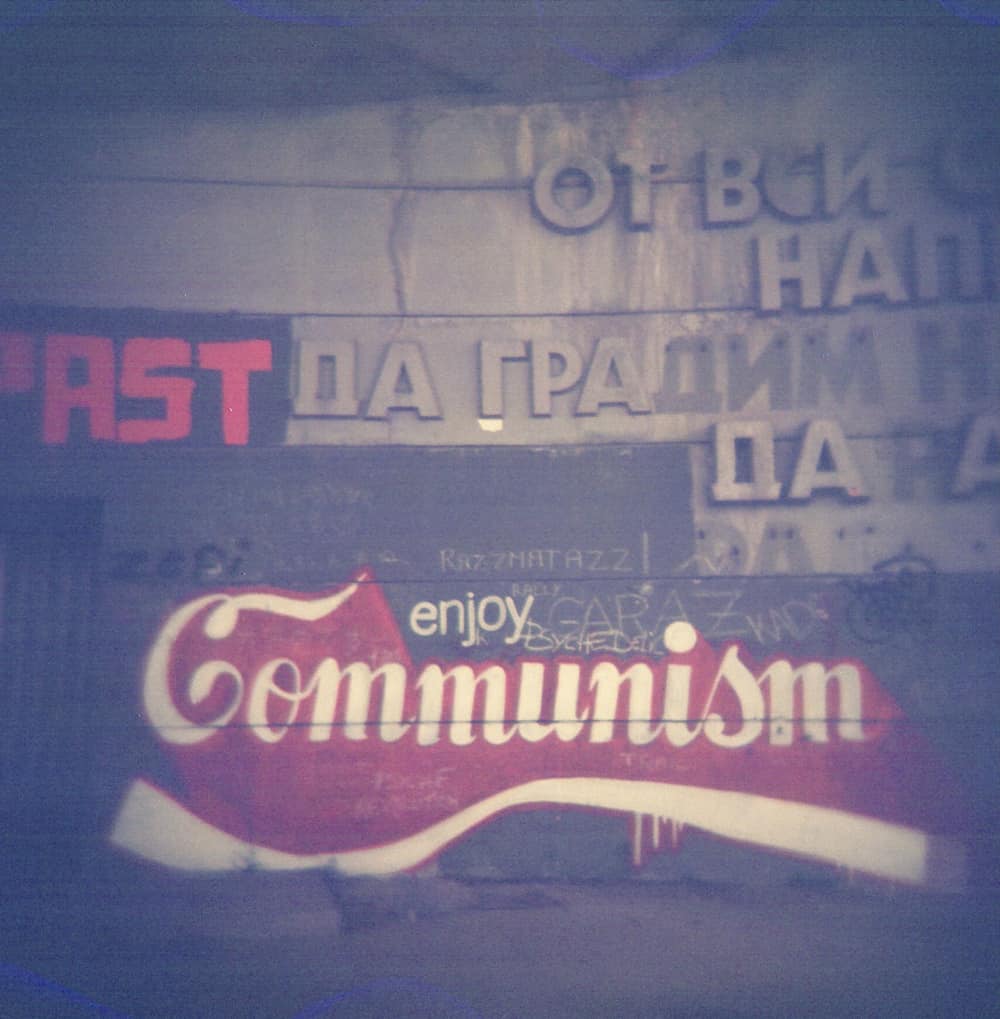 Of course, the perspective of a Bulgarian will be different from mine. Monuments that memorialize the "bad old times" for locals don't have the same fascinating appeal as they do for me. Countries that formerly were ensconced behind the Iron Curtain deal with their Soviet past in different ways. Budapest dumped many statues in Memento Park on the city's outskirts. Prague blew up their Stalin statue and replaced it with a giant red metronome. (Really!) In Bulgaria, they are left in place, to ignore.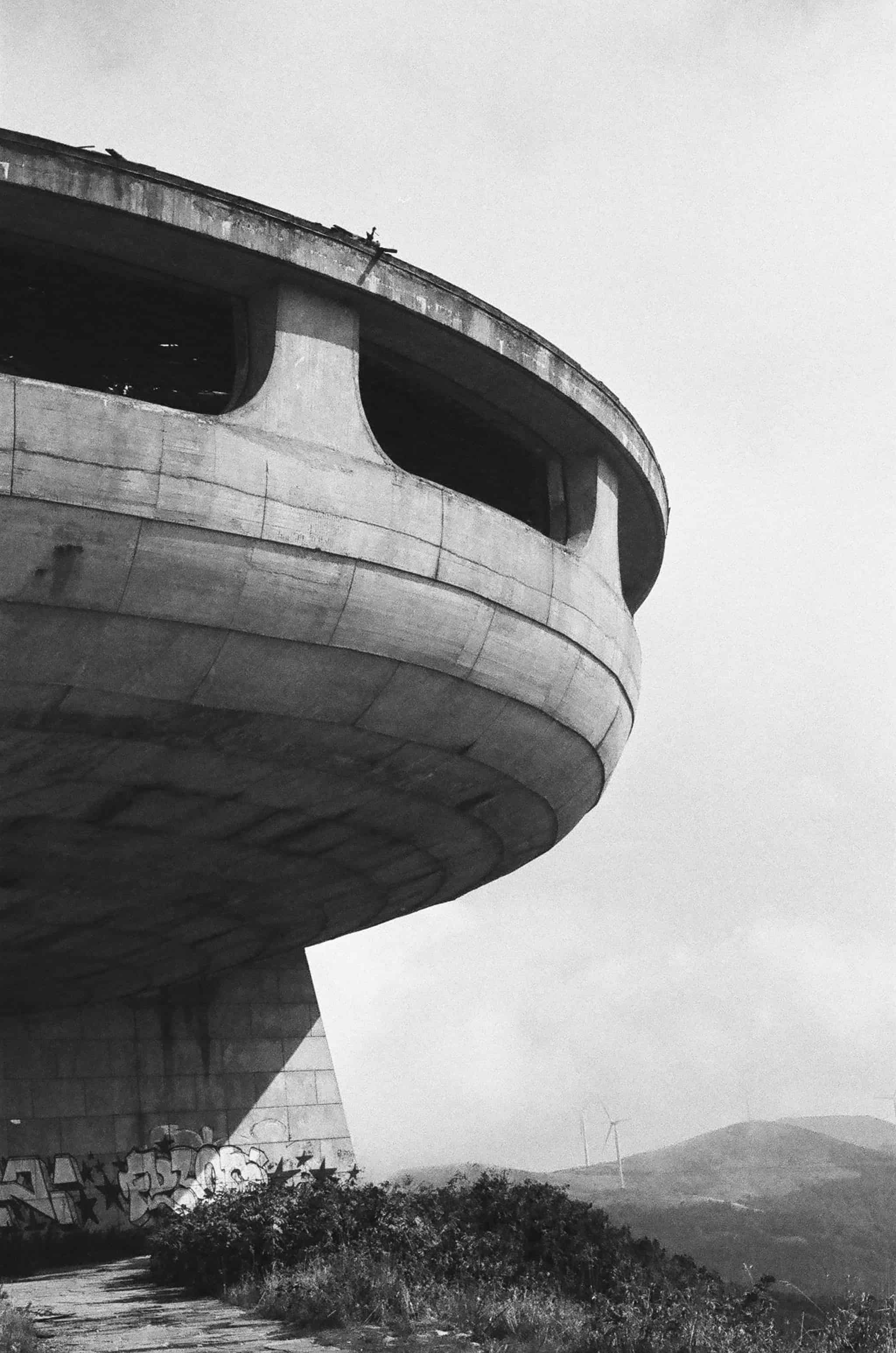 Buzludzha illustrates the ambivalence about this method. Created as a massive futuristic meeting hall on top of a mountain in the late 80's– a poorly-timed celebration of Communist might– the monument is still visible from all the surrounding towns. And yet it's been criminally neglected, with the crumbling hammer-and-sickle roof letting in water and the ornate socialist realist murals disintegrating from the walls. The marble floors and copper ceiling are long gone. Graffiti and broken glass cover the walls and floors. Buzludzha has been left to die.
But despite its history and hubris, despite its sad state, despite it all– Buzludzha is still breathtaking.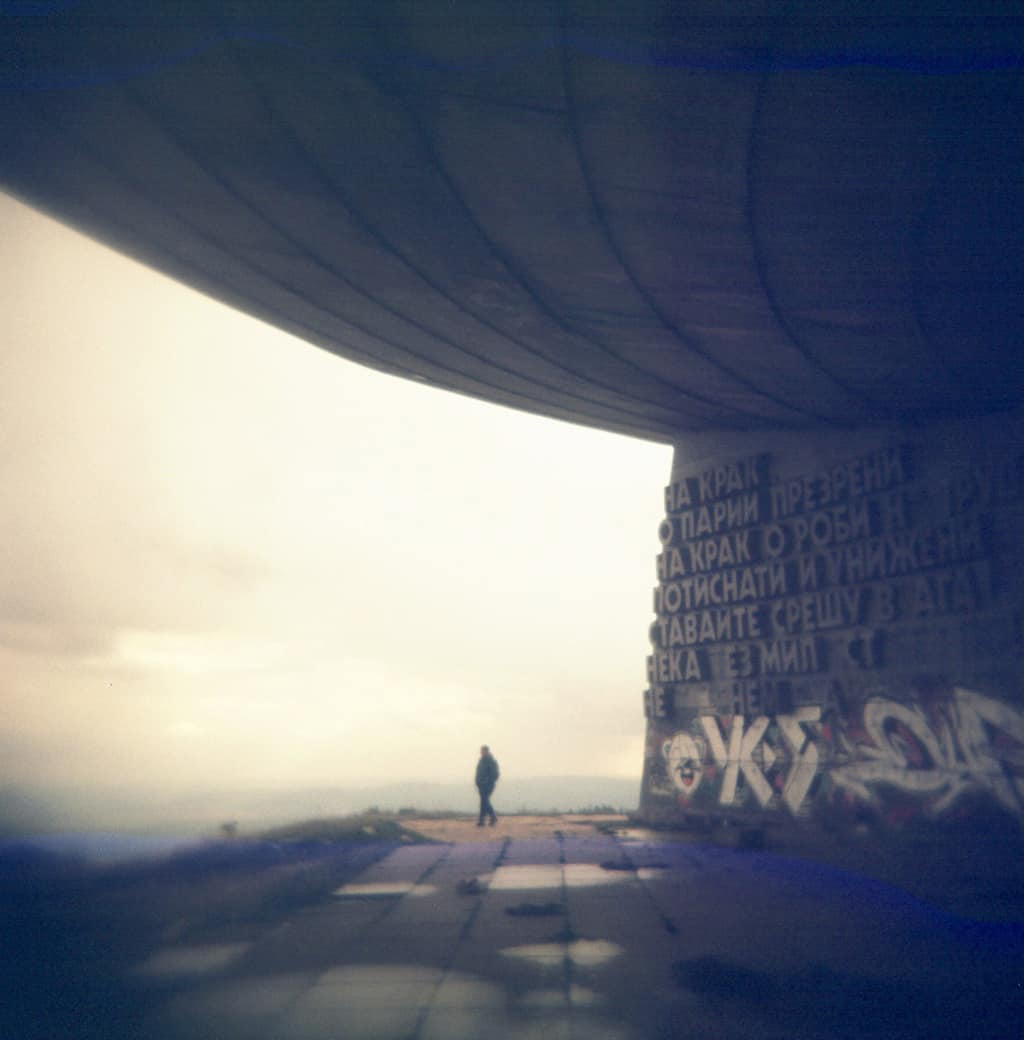 The monument looms closer and closer as you drive up the mountain. It's massive, and its low space-saucer shape only serves to emphasize how huge the structure is.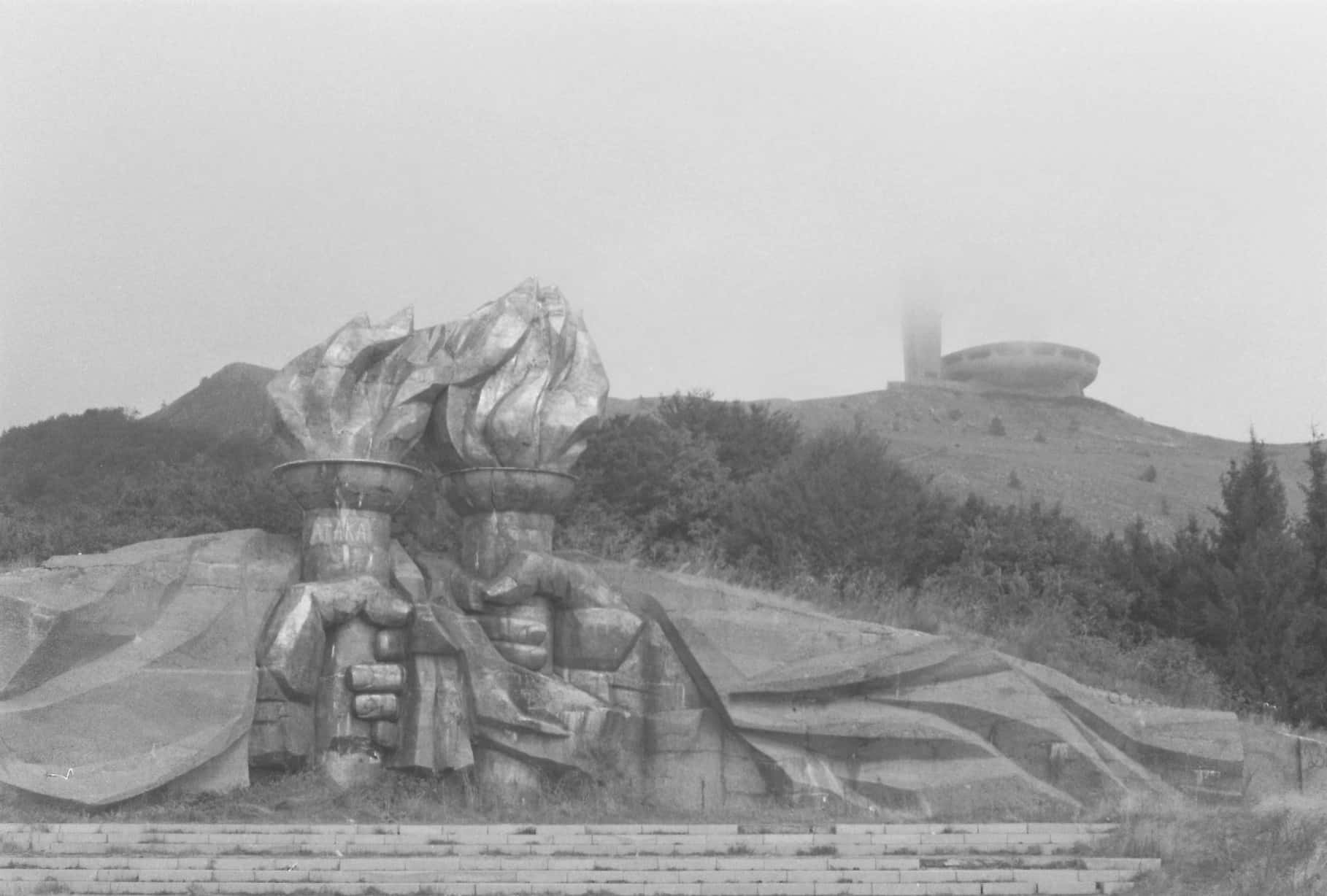 Stylized stone hands clutching flaming torches sit below Buzludzha, while the monument itself is visible above– unless the foggy clouds rush in and erase it, which happens frequently atop this mountain.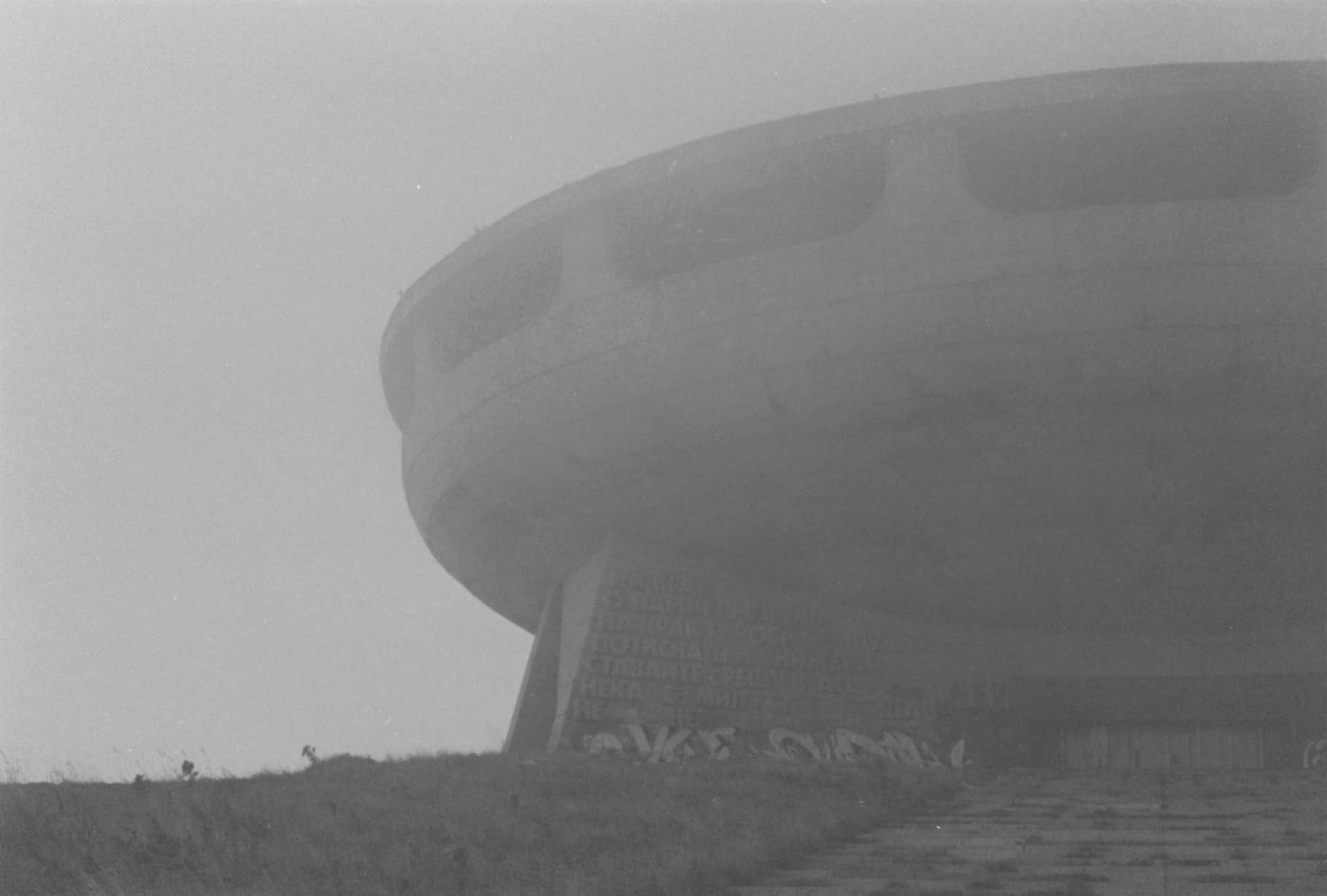 The doors are sealed, but this hasn't stopped urban explorers from entering. A hole large enough to wiggle into sits five feet off the ground; climbing through leads to a dark staircase with low roofs and debris-covered floors. An inauspicious entrance, and deceptive.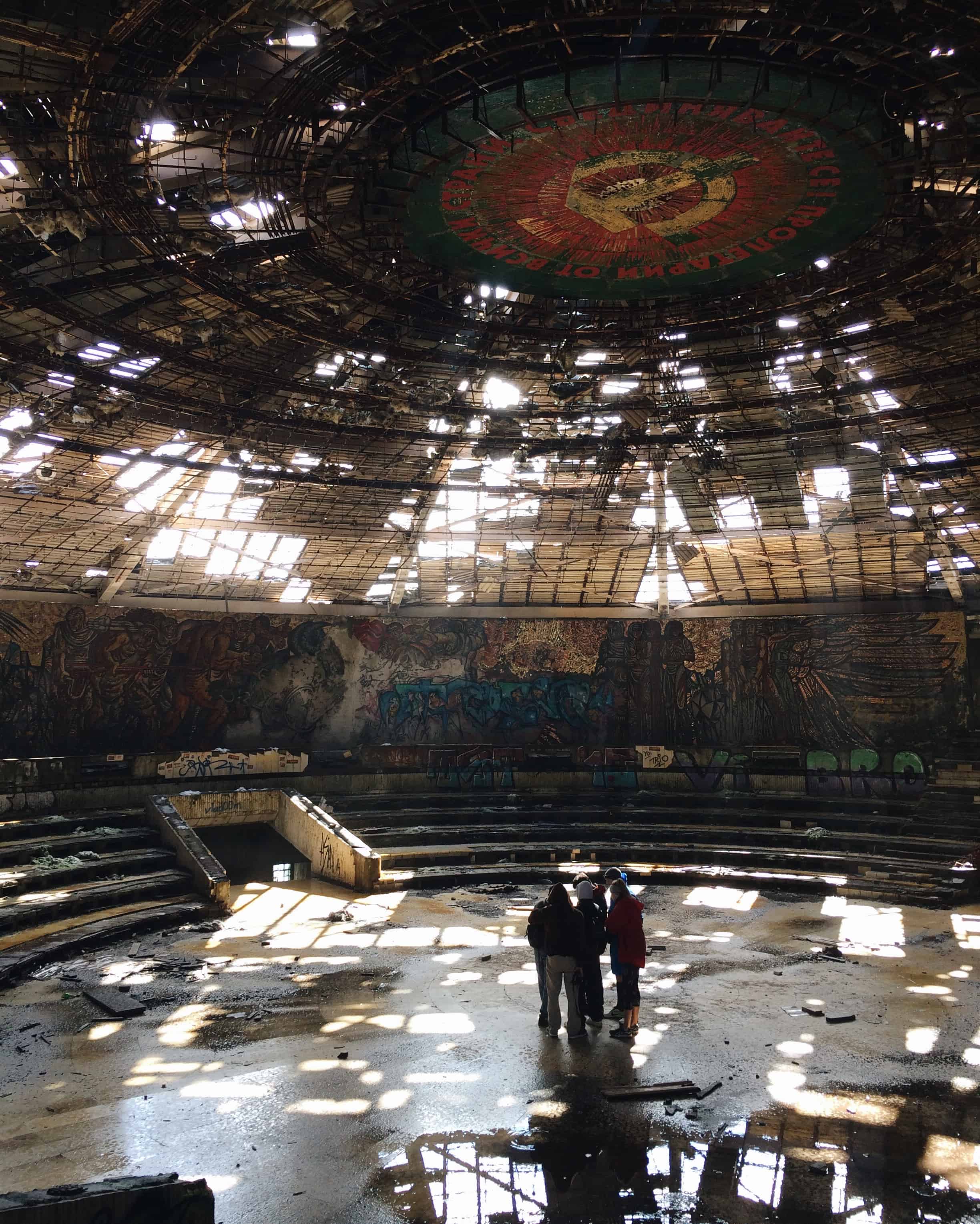 I entered the hall alone and gasped. It's vast, much larger-feeling than any picture had made it seem. Though this is typical of Socialist realism–demonstrating power with size and scope– I wasn't prepared for it. The acoustics are exquisite, with my voice reverberating in a commanding echo.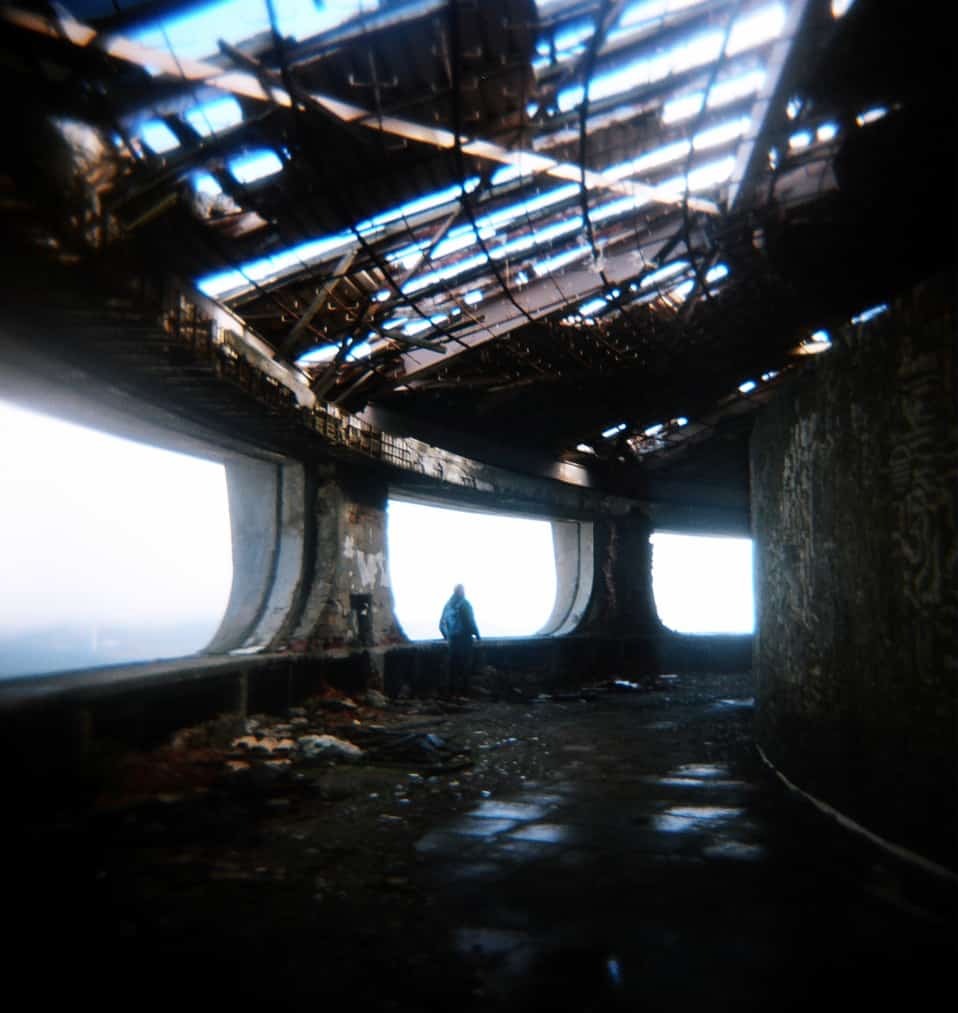 The observation deck around the perimeter has a panoramic view of the Bulgarian countryside. Every part of the building speaks to its presumed power, even the intricate wall murals. It's punchy, it's unsubtle, it's sweeping.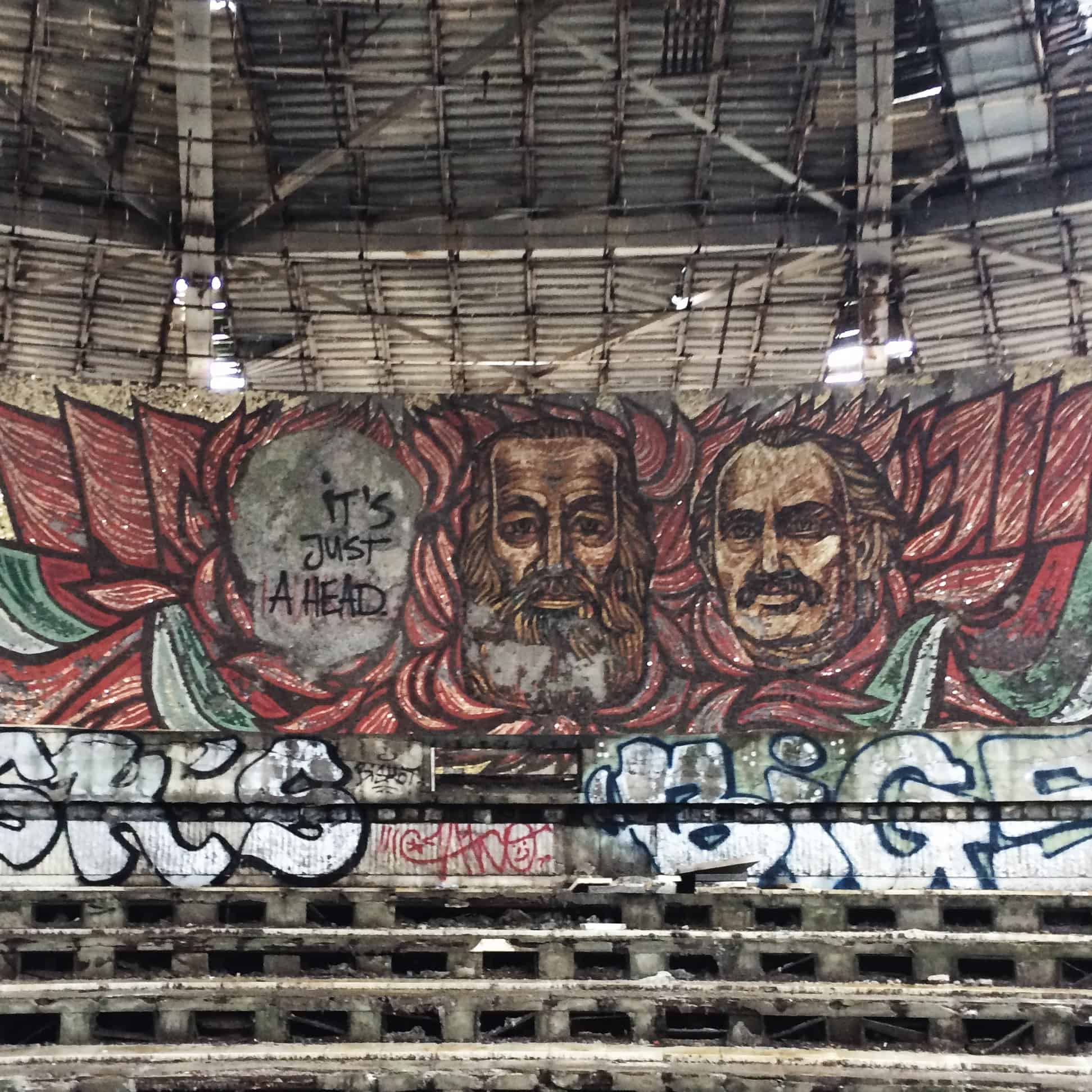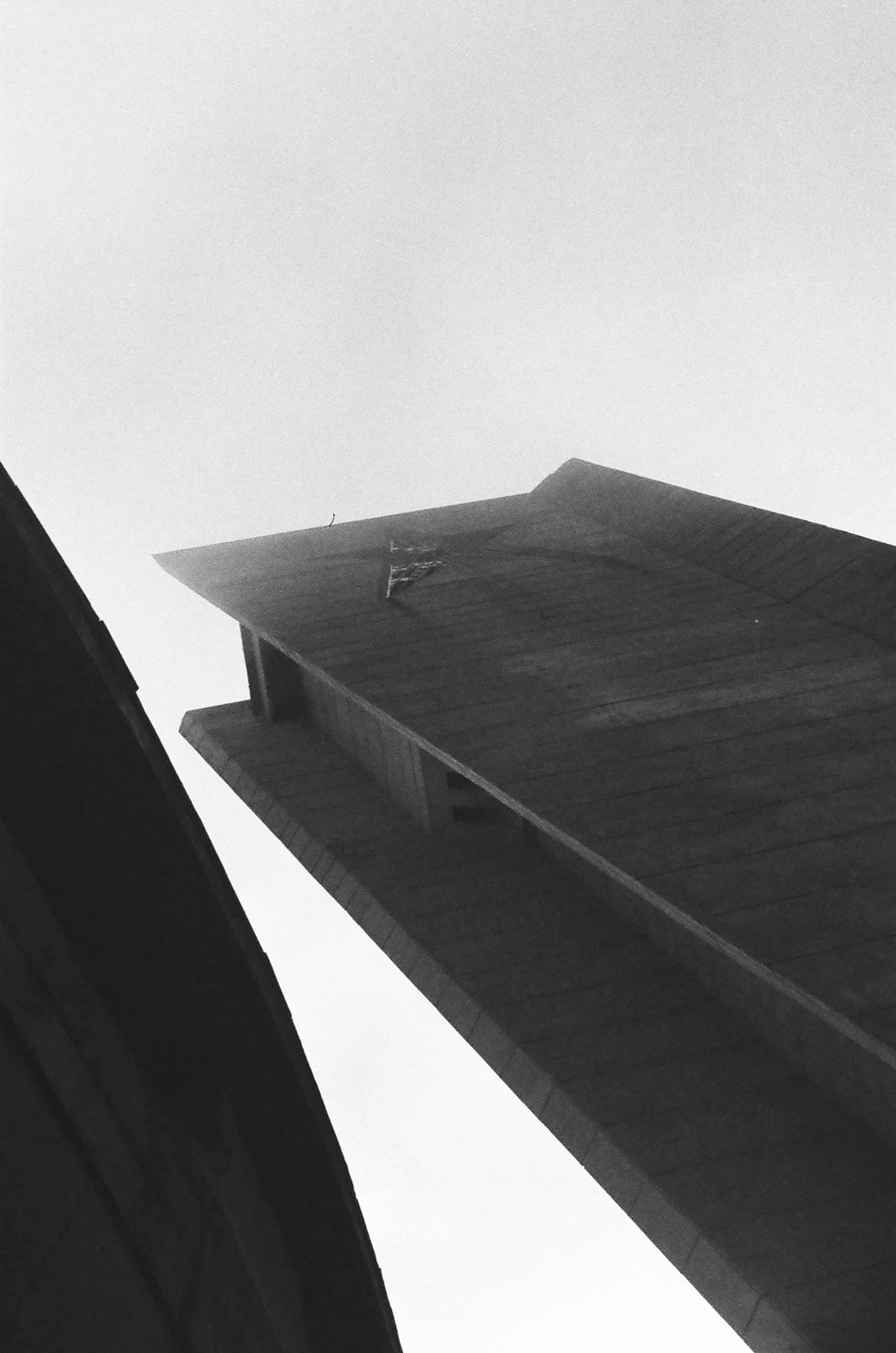 I learned about the destruction of opulent Penn Station in New York. I saw the pictures of golden age theaters crumbling in urban Detroit. I live near Haydarpasa, Istanbul's unused Ottoman-era Anatolian train station. I know how to mourn buildings, and I thought I knew which buildings should be mourned. But Budludzha, even more so than all the other monuments I saw, defies the rules. It's not ornate. It doesn't harken to a more romantic time.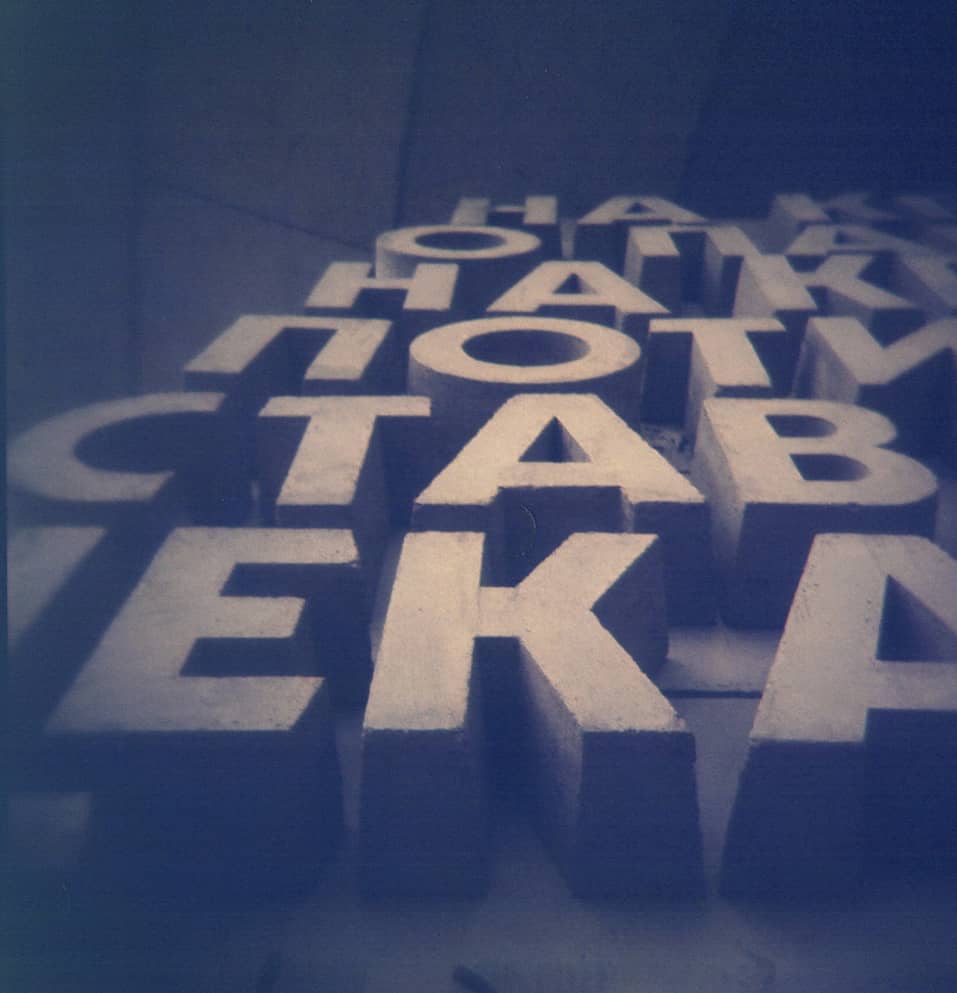 But Budludzha is singular, astonishing, unique. I've never quite seen anything like it and the longer I walked around, the sadder I became. How can such an exceptional space be so emphatically rejected?
Here's the thing: I truly do believe that one day, these neglected Socialist monuments will be appreciated as worthy sites to visit– not just as cultural curiosities, but as genuine items of concrete beauty. Someday, visitors won't have to crawl through a hole in a stairwell of Buzludzha, leaving graffiti and taking the fallen mosaic stones as mementos. Someday, perhaps, someone will see that despite its doomed Communist history, Buzludzha is a cathedral.